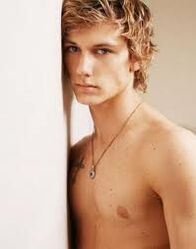 Alexander Richard "Alex" Pettyfer (born 10 April 1990) is an English actor and model.He appeared in school plays and on television before being cast as Alex Rider, the main character in the 2006 film version of Stormbreaker. Pettyfer was nominated for a Young Artist Award and an Empire Award for his role.He has been seen as a model in several advertising campaigns for Burberry.His next starring role was in Beastly, a modernized retelling of Beauty and the Beast.
In 2005, Pettyfer, after ending his modeling career,made his professional acting début in the British television production of Tom Brown's Schooldays, playing the lead character, Tom Brown; he received positive reviews for the role. In June 2005, he was cast in his most prominent role so far, that of teenage MI6 spy Alex Rider in the filmStormbreaker, based on the novel by Anthony Horowitz. He was one of 500 who auditioned for the role. Pettyfer chose to appear in the film over a role in the film Eragon, noting that he preferred Stormbreaker because it would be filmed in Britain, in the Isle of Man, while Eragon would film in the Czech Republic; Pettyfer is afraid of flying, and he liked the looks of the cast for Stormbreaker.Stormbreaker was released on 21 July 2006 in the United Kingdom, on 6 October 2006 in the United States and on 21 September 2006 in Australia.

One review of Pettyfer's performance described him as playing the role with an "earnest intensity",although another noted that he "isn't quite at ease as an actor".Media reports specified that the film was expected to make Pettyfer a "teen idol".Pettyfer will not reprise the role if there is another Alex Rider film because he is too old.

He next appeared in Wild Child, a film set in California, Kent and Yorkshire part of which took place at Cobham Hall Girl's School in Kent. He played school boy Freddie Kingsley and he co-starred with Emma Roberts. He will star in the film Beastly, based on the novel by Alex Flinn, alongside Mary-Kate Olsen, Vanessa Hudgens and Neil Patrick Harris which will be released in 2011. He finished filming on 13 August 2009, according to the film's Twitter account.

In 2009, he played the callous ringleader of a group of cool but cruel teenagers who are picked off one by one by the ghost of one of their former victims, in the horror-comedy,Tormented.

Pettyfer returned to modelling in 2007. His recent modelling jobs include ad campaigns for Burberry in 2008 and 2009.

It has been announced that Pettyfer will be portraying the main character in I Am Number Four, to be released in 2011. It will be co-starring Timothy Olyphant, Dianna Agron, andTeresa Palmer directed by D. J. Caruso, produced by Michael Bay and Steven Spielberg will be the executive producer.
FilmographyEdit
Year
Title
Role
2005
Tom Brown's Schooldays
Tom Brown
2006
Stormbreaker
Alex Rider
2008
Wild Child
Freddie Kingsley
2009
Tormented
Bradley
2011
Beastly
Kyle Kingson
I Am Number Four
John Smith/Number Four
2008: Burberry - Spring/Summer
2008: Burberry - The Beat For Men eau du cologne
2009: Burberry - Spring/Summer
Awards and nominationsEdit
Year
Award
Category
Role
Result
2007
Young Artist Awards
Best Performance in an International Feature Film

Leading Young Actor or Actress[18]

Alex Rider in Stormbreaker
Nominated
Empire Award
Best Male Newcomer[19]
Nominated
2010
ShoWest Award
Male Star of Tomorrow[20]
Won